Introduction
The clients' bedrooms were initially equipped with common fluorescent tubes providing about 250 lx illuminance on a reference plane, usually emitting a warm color (3200-3500 K). This lighting was replaced with biodynamic LED lights that enable the light quality and quantity to be varied during the day and night. A central suspended light fixture satisfying the aesthetic requirements of the age group involved was designed for this.
The original light (A) was replaced with a biodynamic lighting system with variable spectral composition, light emission characteristics
and light intensity matching the day/evening time (B, C). Orientation glow lights were installed in the rooms to facilitate clients' movements during the night (D).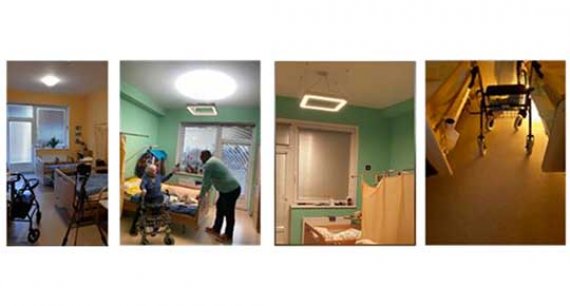 Solution
The lighting was also replaced in the bathrooms and entrance halls. Normal daylight was strengthened and light distribution was modified so as to achieve more uniform illumination. The areas were also supplemented with an automatic night mode by using fixtures with indirect lighting and reflection from the room ceiling.
The original lighting (A) was strengthened and light distribution was changed (B). The system was completed with a night mode (C, D).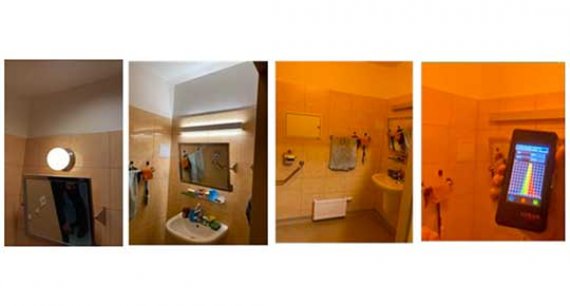 Conclusion
This study was run in 2 phases and included 2 testing waves: in November 2019, before the lighting system replacement, and in February 2020, i.e., 10 weeks after the lighting system replacement. The research subjects included 19 clients of the TGM RH in Beroun (11 clients in the test group – with lighting replaced in their rooms, and 8 clients in the control group – with the lighting system replacement in their rooms only simulated while the light parameters remained unchanged) and 13 volunteers from among the staff.
From the interim evaluation (January 2020) of the subjective feelings of the individuals from the test group (n=11) concerning the lighting system change, it follows that the installation of this new system was well received and had a favorable effect on the subjective perception of the retirement home clients. The majority were satisfied with the change (82%), of whom 36% were significantly satisfied. None of the subjects regarded the new lighting installation as an undesirable change (Figure 9). In particular, the clients appreciated the easier movement through the areas after the installation of the new automatic night lighting.
60% of the clients felt safer when walking than before (Figure 10). Sleep improvement was reported by over one-third (36%) of clients (Figure 11) and marked mood improvement was reported by 9% of clients (Figure 12). The most frequent assessments one month after the use of the new lighting were "I feel much safer now when going to the bathroom during the night" and "I take a nap during the day much less now than before".