Introduction
The poultry industry is the largest sector of the agricultural industry in South Africa valued at €3.01 billion. The industry experienced large losses in 2017 that could be eliminated by bringing ICT and big data technologies to it and providing farm managers with tools for improving farms.

Therefore, OmnioFarm project by Omniolytics company was conceived in 2017. A project using IQRF based devices and cloud services serves to improve animal welfare, reduce mortality rates and improve growth rates (FCRs).
Solution
Thanks to the company IQRF Solutions, the solution based on the IQRF technology was installed, using water and air quality sensors and IQRF to RS232 bridge designed by JoTio Tech company. The solution can monitor farm conditions from anywhere at any time. The sensors are used to detect unfavorable conditions and enabling preventative measures. Wireless sensors allow capturing broiler house conditions even in the harsh environment in real-time. Users can monitor conditions remotely on dashboards, set thresholds and alerts in the cloud. Moreover, the solution helps to improve production efficiency with data analytics and machine learning in the cloud.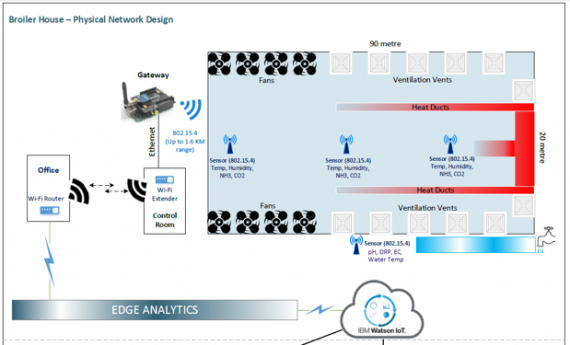 Conclusion
OmnioFarm helps to save money for complicated deployment, analog communication and limited scalability of old proprietary systems. The solution based on the IQRF wireless technology brings scalability, easy deployment, analysis and integration of data in standardized and easy to share format.