IQRF Meetup
FROM: 04 October 2018 TO: 04 October 2018
The IQRF Alliance invites you to another IQRF Meetup - now in South Moravia, where attendants will be able to enjoy an informal conference on professional premises and then move to a wine cellar for a good networking dinner.
Where: Hotel Volarik, Mikulov, Czech Republic
When: October 4th, 2018
Set a note on your calendar!
Agenda:
| | |
| --- | --- |
| 12:00 - 13:00 | Registration |
| 13:00 - 15:00 | 1st round of presentations |
| 15:00 - 15:30 | Coffee break |
| 15:30 - 17:00 | 2nd round of presentations |
| 17:00 - 18:00 | Break |
| 18:00 - 18:30 | Walk through the town to a wine cellar |
| 18:30 | Networking in the wine cellar |
The IQRF Meetup will start with a Registration from 12:00 in Hotel Volarik, Mikulov, Czech Republic.
After the Registration, there will be two rounds of presentations - representatives will have an opportunity to briefly introduce their company and what they do. IQRF Tech and other IQRF Alliance members will introduce the release of new features, products, and services: Smart Connect, IQRF Gateway Daemon 2, simple and low-cost IQRF gateway, mobile app, IoT platform, connectivity to Big Clown makers kit, and much more.
Thanks to the experience we know that people get to know each other best during networking, so we will take a short walk from Hotel Volarik through the historic center of the town to the wine cellar Šimák. Guests will find there a pleasant sitting with a wine degustation and a good dinner in the form of pork ribs and chicken wings. Furthermore, we will try out the very first IQRF music jam so bring any musical instrument you can play to join the "IQRF band".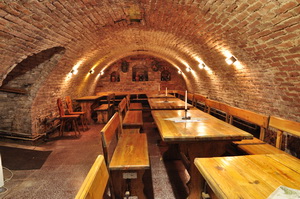 Accommodation:
The whole IQRF team will stay in Hotel Volarik. The accommodation is registered by the guests themselves.
Since the Hotel Volarik is mostly booked, we recommend you one of these hotels nearby the town center.
Hotel Templ
Hotel Aurelius
Hotel Golf Garni
Please note that this is a very desirable term, so be quick and make your reservation as soon as possible.