IQRF Meetup 2020 online
FROM: 27 May 2020 TO: 27 May 2020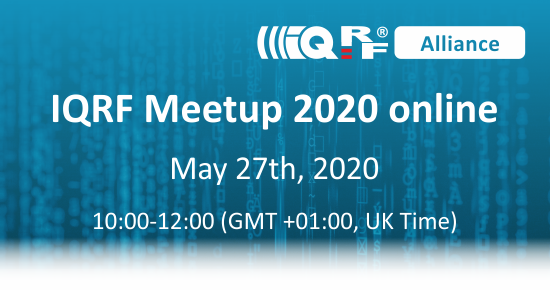 When: May 27th, 2020, 10-12 AM (GMT+1)
Where: online (how to connect?)
 Register to get a calendar invite with the conference link and meetup updates
Join to call
Don't miss 1:1 meetings!
ImpromptMe conference organizer is here for your 1:1 meetings. Please register and update your profile. You can easily set 1:1 meetings with other participants of the IQRF Online Meetup. Others can view your profile as well and if interested they can send you an invitation for a meeting with you.
I want a 1:1 meeting!
Agenda:
| | |
| --- | --- |
| 10:00 - 11:00 (GMT+1) | IQRF ecosystem, products, solutions & case studies |
| 11:00 - 11:30 (GMT+1) | IQRF Technology news |
| 11:30 - 12:00 (GMT+1) | Panel discussion (questions from the audience on the conference call and on YouTube) |
| 12:00 (GMT+1) | 1:1 meetings |
Video guide how to connect / PDF guide

Join to call
Detailed agenda
Presentation
Company
Speaker
IQRF Alliance Lighting Strategy
IQRF Alliance
Šimon Chudoba
IQRF Technical update
IQRF Tech
Hynek Syrovátka
IoT Platform for IQRf Interoperable Ecosystem
8point3led
Ashley Bateup
IAconnects MobiusFlow & Gateway with IQRF connector
IAconnects Technology
Chris Moorhouse
Logimiclight
Logimic
Michal Valný
PiR Sensors
Danlers

Martin Hosey,

Kevin Johnstone

SensConnect, bespoke products and solution integration services
RDS

Liam Layton,

Peter Marchant

Inteligent extractor fan
Ethiot

Pete Becket

Zero Carbon households
Sero Energy
Matt Kane
Panel discussion
All speakers
 
One-on-one online sessions
Anyone
 
Join to call
We have a lot of news we want to share with you despite the current situation with COVID-19 in the world.
After considering the situation we have decided to go for an online conference call streamed in real-time on youtube.
We will give you an update on the IQRF technology development as well as on new products, solutions and projects of IQRF Alliance members.
You will be able to send your questions to the speakers both on the online conference call as well as on youtube. Furthermore, you will be able to set up 1:1 meetings with speakers you are interested in.
Please register to stay updated with the latest information about the Meetup.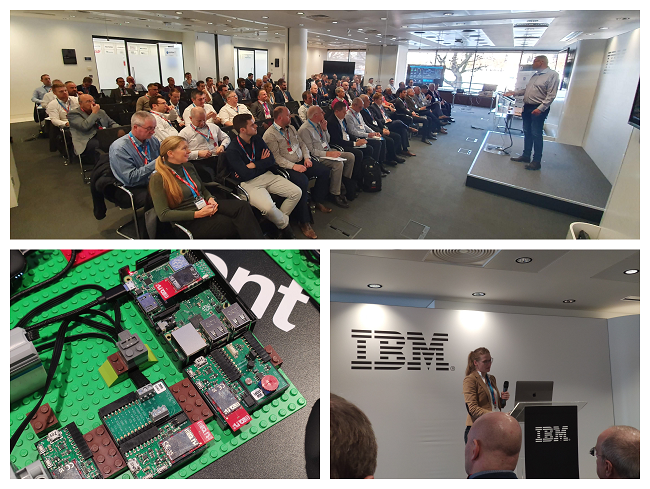 Photos from IQRF Meetup UK 2019
I want a 1:1 meeting!
Join to call
Presentations:
IQRF Technology and Alliance news, products, solutions and projects of IQRF Alliance members
Speakers
| | | |
| --- | --- | --- |
| Name | Position | Company |
| Šimon Chudoba | CEO | IQRF Alliance |
| Hynek Syrovátka | CTO | IQRF Tech |
| Ashely Bateup | Managing Director | 8point3led |
| Chris Moorhouse | CTO | IAconnects |
| Michal Valný | CEO | Logimic |
| Martin Hosey | Product Manager | Danlers |
| Kevin Johnstone | COO | Danlers |
| Liam Layon |   | Review Display Systems |
| Peter Marchant | Embedded Division Manager | Review Display Systems |
| Pete Beckett | CEO | Ethiot |
| Matt Kane | Digital and Infrastructure Manager | Sero Energy |