DS-IOT-01
Sensor and relay kit to quickly start your own IQRF mesh network
Company info:
Name: IQRF Tech s.r.o.
Street: Prumyslova 1275
City: Jicin
Country: Czech Republic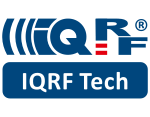 Info about product
Category: development
Status: Available
Manufacturer Name: IQRF Tech
HWPID: -1 (0xffffffffffffffff)
Manuf. Location: Czech Republic

DS-IoT-01 is designed to quickly and effectively build up your IoT infrastructure. Connect DS-IOT-01 with sensors and actuators to any Linux based computer (RPI, UP Board,...), install ready IQRF Deamon and connect the GW to any cloud using ready SW extensions. You can afterward connect any IQRF Interoperable devices available on www.iqrf.shop
Sensor kit DDC-SE-01 is intended to measure temperature, light intensity and voltage selected by the potentiometer. Relay kit DDC-RE-01 enables to switch connected equipment on/off using two relays inside.
These kits are controlled by DPA commands implemented in Custom DPA handlers delivered with the set. The handlers specify HWP identification (HWPID) to individual kits which allows their identification.
DS-IOT-01 devices can be connected via the KON-RASP-01 adapter to a gateway based on Raspberry Pi and then to any cloud. The gateway, as well as the cloud, can be adapted for communication with IQRF devices utilizing their HWPIDs.
Kit contents:
| | | |
| --- | --- | --- |
| Product | Pcs | Description |
| DCTR-72DAT | 4 | IQRF transceiver |
| CK-USB-04A | 1 | IQRF programmer and debugger |
| DK-EVAL-04A | 3 | Universal portable development kit for TR modules |
| DDC-SE-01 | 1 | IQRF evaluation and development kit |
| DDC-RE-01 | 1 | IQRF evaluation and development kit |
| KON-RASP-01 | 1 | Adapter to connect IQRF transceiver to Raspberry Pi |
| CAB-USBABMICRO | 1 | Micro USB cable 18.5 cm |
| USB flash drive | 1 | Software and documentation (including HWPs and Custom DPA handlers) |
Recommended option:
There are various small computers with interface connectors compatible with Raspberry Pi. Thus, they are connectable directly to IQRF transceiver via adapter KON-RASP-01 included in the set. Any non-compatible ones can be connected via universal breakout boards IQRF-BB-01 or IQRF-BB-02 which can be ordered separately.