IQRF OS 4.0 technical information
21 March 2017
New IQRF OS 4.0 is going to be released on March 23rd and is focused mainly on security features.


Security
The new operating system IQRF 4.0 brings ultimate security to IQRF networks.
There are three different protections based on AES-128 implemented:


used for
bonding
CATS services
network backup and restore

Networking encryption
User encryption
Compromising of keys is very frequent source of security problems. Therefore, IQRF OS minimizes and protects also manipulation with keys – network and access keys are not known during physical manipulation as they are generated from respective passwords.
Access encryption
Access encryption is used to secure all sensitive OTA network operations. It is used for bonding and only authorized devices and users with valid Access password can join the network or to maintain network devices. CATS services, network backup and restore use Access encryption.
All sensitive data exchanged during bonding, such as network password, NID and Node address are transferred encrypted with access encryption.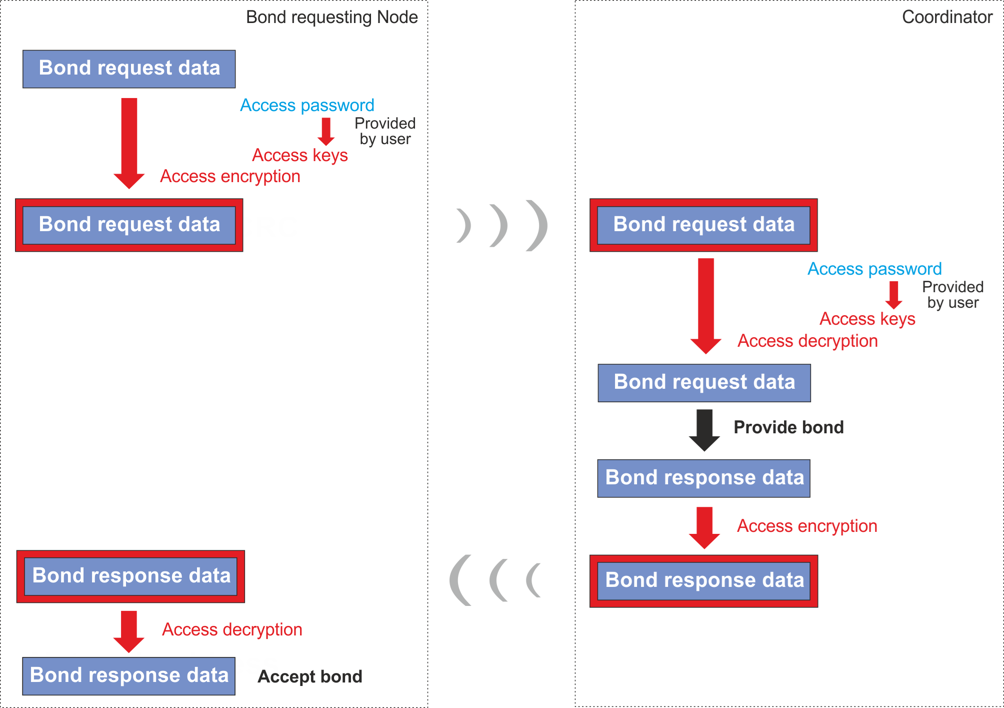 Network encryption
AES-128 with 16 B long keys and additional proprietary CDC (Cipher Data chaining) algorithm is used for Networking encryption. Every TR transceiver is equipped with a 192 b long unique fully random password individually generated at the factory. The 128 b long keys in given network are derived from the password of the Coordinator. The password is passed to Nodes securely, while bonding, encrypted by Access encryption.
User encryption
Besides protection of network communication, there is an optional way to increase privacy by adding another encryption shield to hide user's payload data (either networking or non-networking) or to enhance network protection. User encryption is fully under user's control. It utilizes User key specified by the user. User encryption and/or decryption can optionally be performed outside TR transceivers which allows to hide user's data not only when OTA transferred but also outside IQRF platform.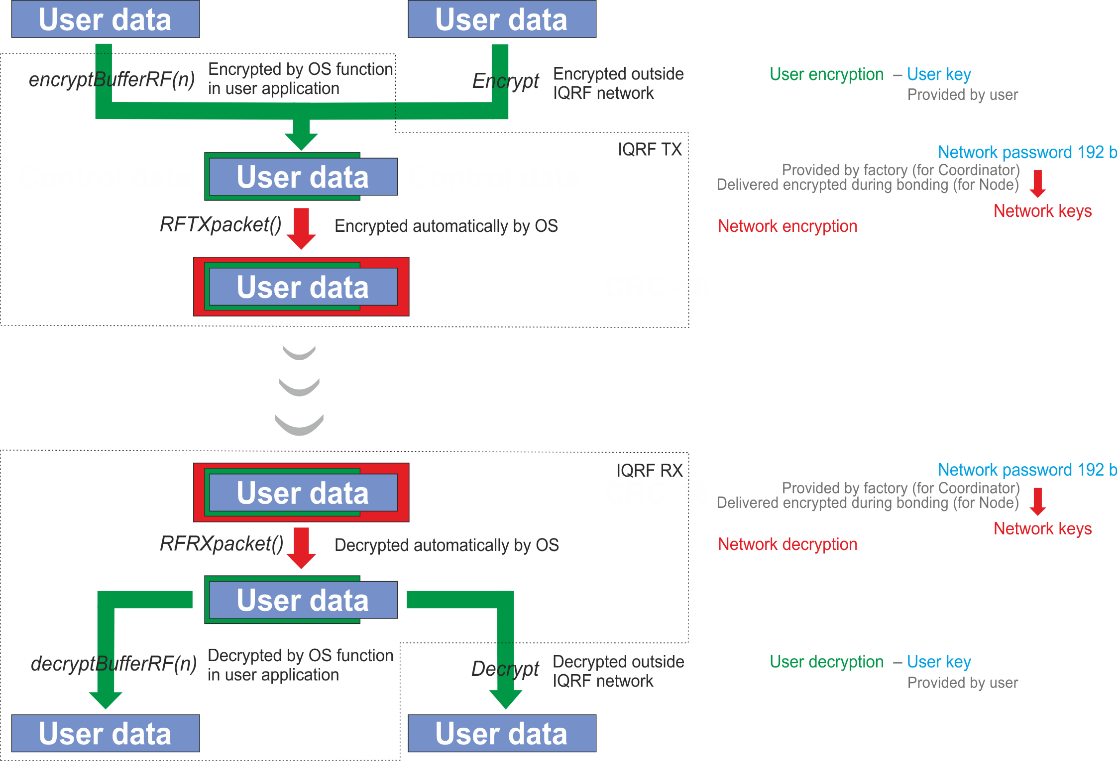 Other features and changes
Deep sleep for TR-76D modules
Longer RF range of LP/XLP mode

the same like for STD mode

Improved FRC

1B FRC downloads data from 63 Nodes
2B FRC downloads data from 31 Nodes

Device cloning canceled

just upload the appropriate HWP and access password to the transceiver and restore network information from the backup

DPA demo canceled
Coordinator/Node as a one device canceled
IQMESH examples removed from Startup Package

The only way for IQMESH is DPA.

Israel (IL) version of TR modules supported
Basic IQRF header file template-basic.h renamed to IQRF.h
OS 4.00D is not interoperable with OS 3.08D
User OS upgrade to version 4.00D is possible, downgrade back to OS 3.08D is not possible
IQRF IDE 4.40 and DPA 3.30 required

More on: www.iqrf.org