How IQRF routing works?
16 August 2019
IQRF transceivers implement light but efficient built-in IQMESH protocol supporting either simple wireless connectivity (Star topology) or even complex networks (full Mesh).


Performance and reliability of any network especially depend on the routing mechanism. IQMESH supports various routing techniques, numerous unique and often patented features and selectable parameters to fit the functionality according to project-specific needs. Routing algorithms can vary from having the complete paths under control with respect to given arrangement of individual nodes to discovering the routing structure fully automatically, quite transparently from the topology point of view. IQMESH based network primarily use directional flooding scheme and TDMA frames which ensures efficient and collision-free traffic. A packet is typically propagated from the _Coordinator to the Node for control purposes or back for a response or data collection. The forward routing mechanism is illustrated below: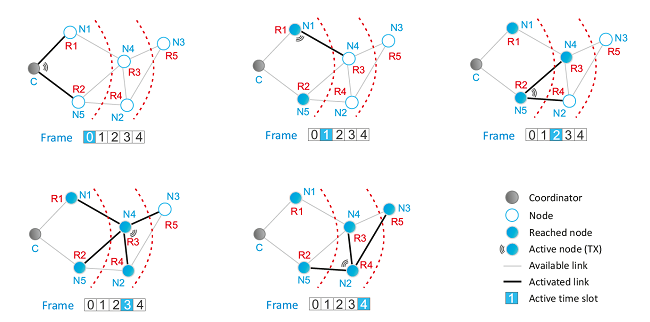 Fast response command
Besides of other sophisticated networking features, IQRF transceivers have implemented a powerful tool to address all or selected network Nodes and receive the response with optional data from all of them in the fastest possible time (from all 239 Nodes in less than 40 s). 2 b from up to 239 Nodes, 1 B from up to 63 Nodes, 2 B from up to 31 Nodes or 4 B from up to 15 Nodes can be collected. This FRC® (Fast Response Command) utility is patented.
Networking
The DPA framework utilized in TR transceivers solves the routing transparently. Just the addressees must be specified and then the packets are delivered automatically. This, together with the data controlled approach with no programming needed makes IQRF very easy to implement. The entire network traffic is driven by simple commands only specifying where and what to perform.