IQRF network management with Peer-to-Peer DPA
11 February 2020
The DPA Peer-to-Peer (DP2P) is designed to communicate with one or more connected IQRF Nodes in a direct range. DP2P is particularly useful for network management, such as locating a specific device, maintaining the device, or remotely controlling it.


Imagine that you have built an extensive network in the building with the Autonetwork function (see AutoNetwork using IQRF overlapping networks), for example, with many indoor air sensors or emergency lights. If you have not previously made sure that your device receives a specific network address that you would enter in your management application, there may be times when you need to locate individual devices in your building.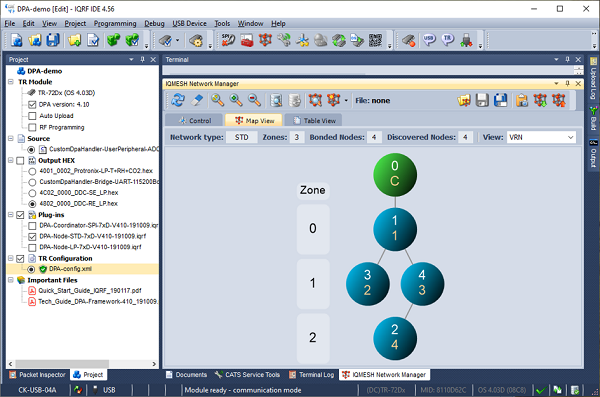 For example, you can use a DP2P service tool. You come to a room with some of the sensors, lights, or other devices, run a low-power service tool, and connect to all the closest devices that are near you - which service tool "hears".
You can prepare the CATS (Configurator Analyzer Tester Scanner) service tool from any IQRF transceiver by uploading the necessary software in the IQRF IDE. Simply click Create CATS on the Control tab of the CATS Service Tools window.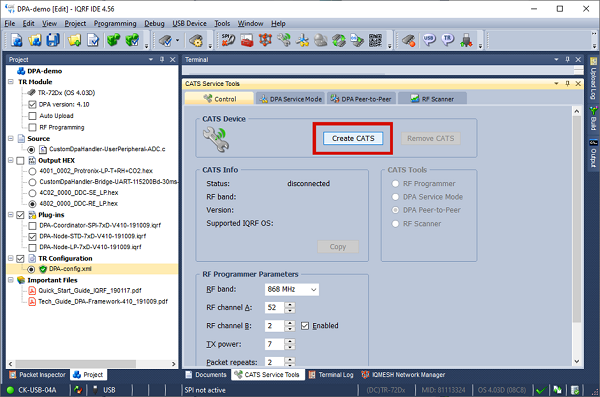 In order to access the IQRF device (IQRF Node), we need to know its working channel, network type (STD / STD + LP) and access password. The device must be enabled to use DP2P and have a non-zero passphrase set, which is generally recommended for security reasons.
In this example, we connect to devices that work on channel 30.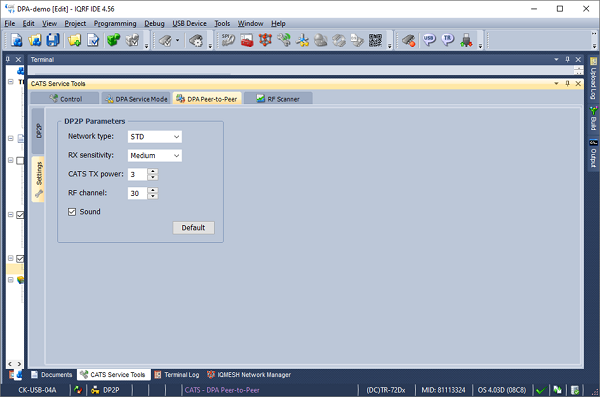 After you enter the passphrase and select a set of network addresses, you will begin scanning the space.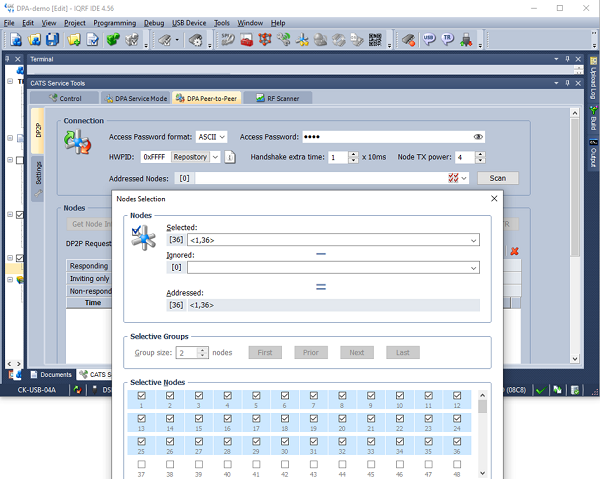 Devices that are within earshot, are on the same work channel and have the appropriate passphrase, are listed and you can perform the selected operations with them. The higher you set the Node TX power (max 7), the more Node IQRF service tools will hear and be able to communicate with.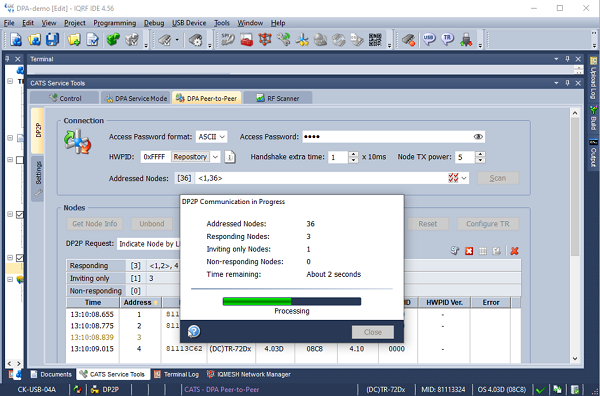 If you reduce the broadcast power (Node TX power), you will be able to communicate with fewer nearer devices and better locate them.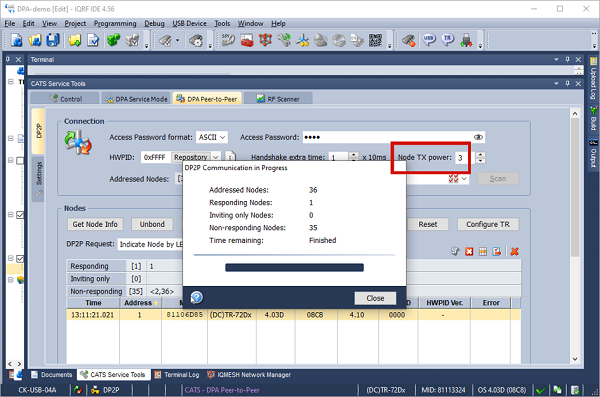 You can communicate with IQRF devices using standard DPA commands. For example, you can use one of the DPA commands that have been prepared, such as flashing a red LED, or send the DPA command you have prepared from the Terminal - DPA Test window to the selected device. For example, you can turn on the selected escape light in a room or blink the LEDs on the device.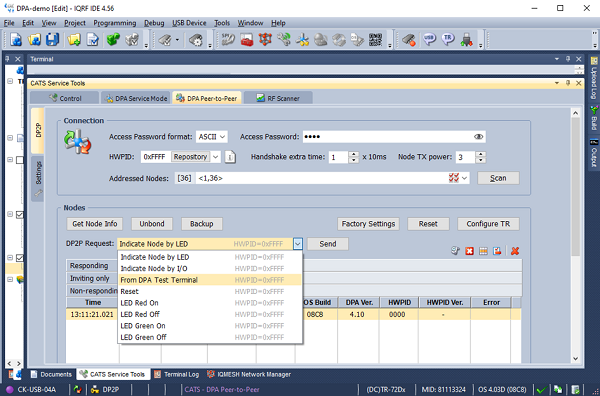 In addition to these localization tasks, the device can be completely managed, reconfigured, disconnected from the network, uploaded an update package, backed up or restored, etc.
Unlike DPM (DPA Service Mode), which has long been available for network management, there is no need to restart the device for DP2P to connect to it. You only need to have DP2P enabled in the device configuration.