IoT for increased security: focused on municipalities and agriculture
13 December 2021
How to prevent fires in haylofts or forestall the multiplication of pests? What to measure with outdoor sensors and how to deal with flash floods in municipalities?
Take a look at some solutions from IQRF Alliance members.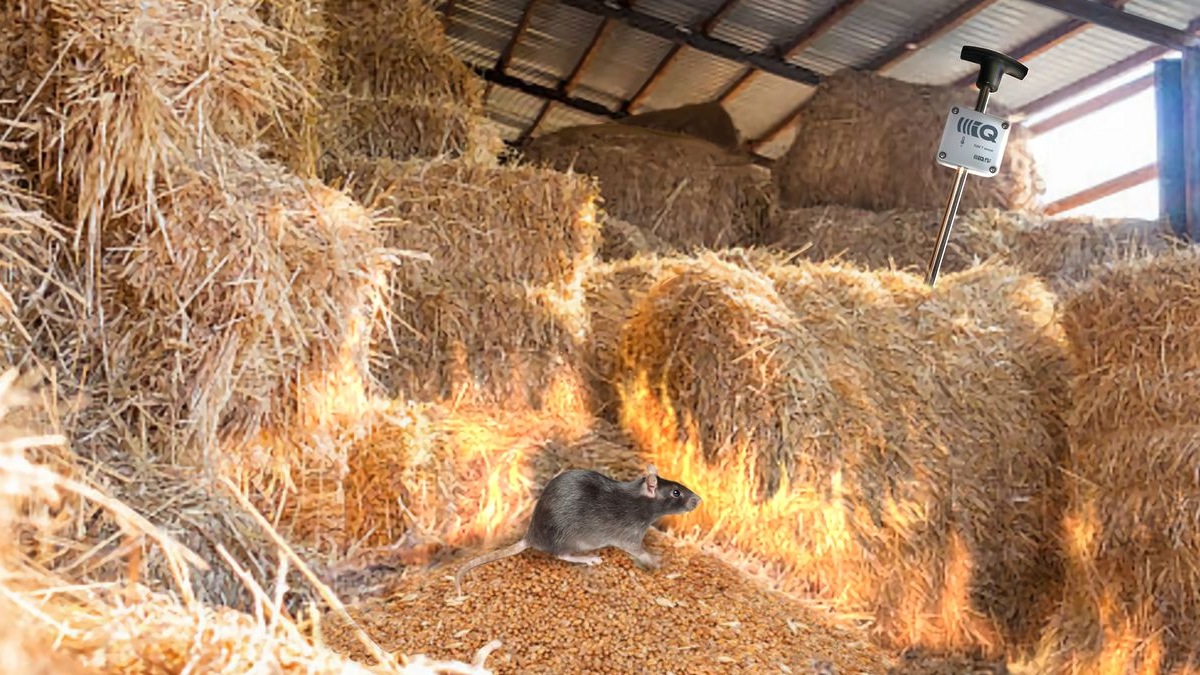 How to prevent hay fires and grain spoilage
It is not uncommon for a hay or straw warehouse fire to be caused by an excess of moisture in the stored raw materials. Due to rotting processes, the temperature of the straw or hay increases, which leads to smouldering, sometimes even open fires. Pests that establish a colony inside a granary can have similarly damaging consequences. Grain spoilage occurs, either due to the feces of pests or due to grain mold in places where moisture condenses at the colony border. The damage is significant in both cases.
The solution has two levels. You can monitor the temperature of stored raw materials with the IQAROS AGRO product offered by MICRORISC and at the same time ensure suitable deratization and disinsection with the experience of ADERA.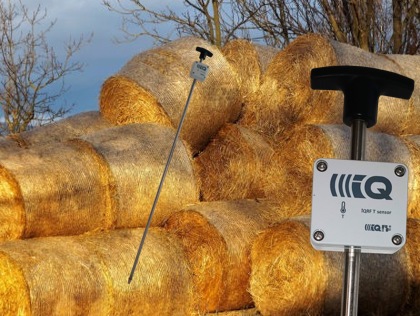 IQAROS AGRO consists of temperature sensors with a stainless steel rod. The temperature sensor is embedded inside the rod. The sensor unit contains integrated wireless communication and a battery. The rod is inserted into the monitored raw material and the sensor transmits the measured temperature to the system using IQRF wireless technology. All the customer has to do is place the rods into the hay, straw or grain and connect to the control application. Here they set the minimum and maximum temperature, and if it is exceeded, immediate information is sent to the specified e-mail.
Every day and week, the customer receives electronically signed sensor measurement reports. The IQAROS AGRO system can also be combined with other sensors from the IQAROS set, so if you want to measure the temperature and humidity of the warehouse, you just select these sensors from the set and have everything ready.
Mousetraps done a little differently
The above-mentioned company ADERA can deal with any problem in the field of DDD (disinfection, disinsection, deratization). They can analyze the occurrence of harmful insects and propose appropriate solutions. Surely there is a difference if you find two flies in stables or a medical drug factory.
They also offer remotely monitored rodent traps. When a mouse or other similar pest is detected, a message is sent to the central monitoring application. Another type of these monitors works just like a trap. The removal of the pest then occurs significantly earlier than when the condition of the traps is checked by an authorized worker only after several months. Pest monitors give an immediate overview of their numbers so that appropriate measures can be selected and their multiplication prevented. At the rate of multiplication, it is essential to take the necessary measures as soon as possible. In addition, it is often unnecessary to use that many pitfalls to eliminate pests, which contributes positively to the environment.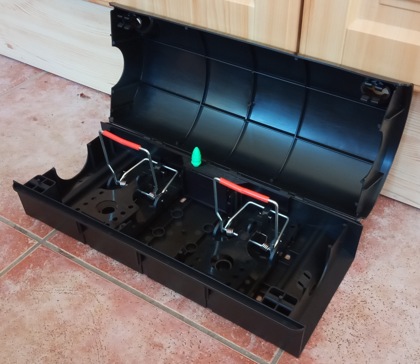 Have you found a pest you would like to deal with? Take a picture of it and use the ADERA mobile application to send it to a specialist who will inform you which kind of pest it is, what the problems are and how to solve them, if necessary.
Protection against flash floods in municipalities
Receiving continuous creeks' water level measurement data can help prevent flash flood problems. The municipal management can use the municipal system to issue warnings to its citizens and thus protect lives and property.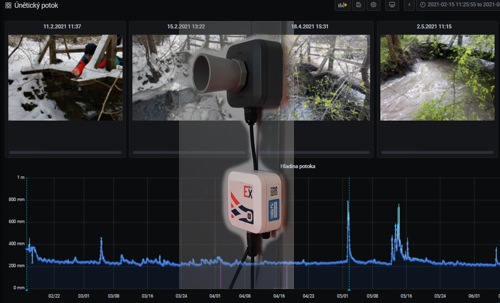 The JoTio Tech company has prepared an ultrasonic water level sensor, which has a durable outdoor design and has already been tested on the creek in Únětice within the pilot phase. During the several-month measurements, it was seen how the water level rises during the precipitation period, and because the system is designed intelligently, it reads the data more often in the event of worsening weather.
The sensor can be connected wirelessly, for example, to a network of lights or municipal amplifiers using IQRF wireless communication or other transmission technology.
Measurement of air parameters in cities
The Tesla Blatná company offers customers an outdoor sensor, which is designed to measure environmental conditions in urban areas. The device consists of ten independent sensors measuring air quality, temperature, humidity, pressure, light, noise and dust particles. Built-in gas sensors measure carbon monoxide (CO), sulfur dioxide (SO2), ozone (O3) and nitrogen dioxide (NO2) in the air.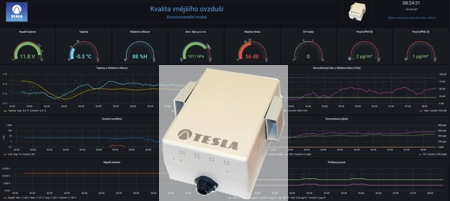 The multisensor can be operated in a streetlighting mode - during the day it is powered by a battery (4Ah) and overnight by electricity (230 V). The device can be mounted on a street lighting pole or a wall, optimally up to a height of 2–4 m. IQRF wireless communication can be used.
IoT gateways
Gates are also an integral part of IoT ecosystems. They make it possible to connect various technologies and networks, such as the IQRF network with sensors and actuators and a computer network (LAN, Wi-Fi, GSM). Gateway software can often operate completely autonomously and manage local devices without the need for WAN connectivity. Unipi technology offers, among other things, safe control systems that can be used for applications in industry as well as elsewhere. The company offers the possibility of producing even smaller quantities of control units and gates, at very reasonable prices, which are possible thanks to the modularity of the Unipi Iris platform.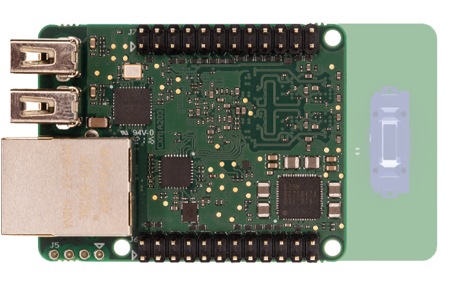 Conclusion
As you can see from the examples above, technology and solutions are combinable. You can use a network of lights to connect outdoor or water level sensors. The indoor light network can connect indoor air sensors or even mouse traps.
Our members, who specialize in this matter and act as system integrators, will be happy to help you integrate various solutions.
You can find case studies and members' products on www.iqrfalliance.org.
If you produce hardware that can be used for IoT applications and you would like to provide your products with IQRF® wireless communication or if you offer a control application or service that other members could use, contact us. We welcome new innovative members to our community.
Other articles in this category