Wireless sensor for oxygen monitoring at COVID units
12 January 2022
Researchers from the Department of Cybernetics and Biomedical Engineering of the Faculty of Electrical Engineering and Informatics VŠB-TUO have developed a wireless sensor monitoring oxygen concentration in the air at the covid units of the University Hospital in Ostrava, where doctors perform oxygen therapy treatments. However, these treatments are followed by an increased risk of a dangerous oxygen concentration or even fire and explosion.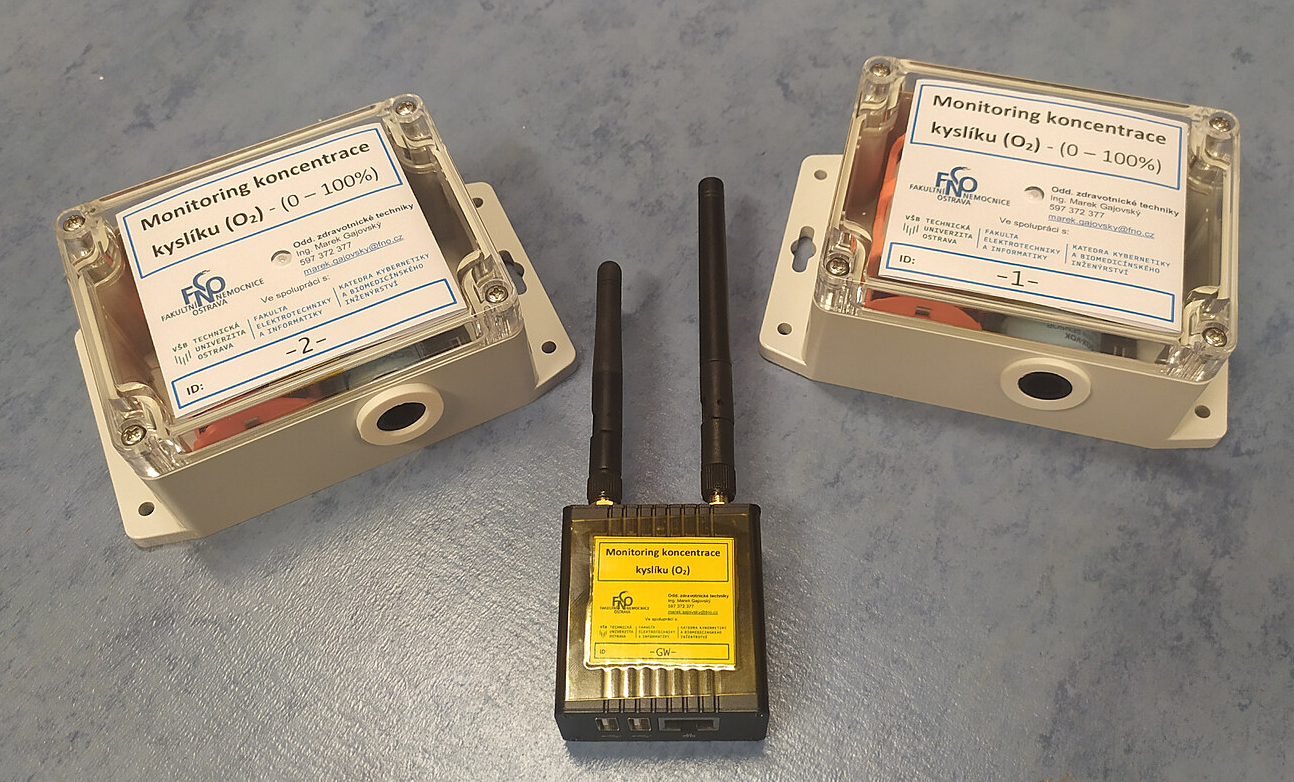 Until recently, a commercially available wireless sensor for measuring oxygen concentration did not exist. However, the team from the Department of Cybernetics and Biomedical Engineering FEI VŠB-TUO consisting of Radovan Hájovský, Jan Velička and Martin Pieš created their own sensor within three months.
"Working on it was a challenge in itself because the development took place in limited lockdown conditions. We had to find a suitable sensor, connection method, wireless technology and design solution," explains team leader Radovan Hájovský.
Especially on COVID units during oxygen therapy, where is used concentrated up to 90% pure oxygen, there is a potential danger of higher oxygen concentrations. The normal level in the air is 21%. If the concentration is increased, there is an increased risk of fire. Unfortunately, these accidents have already been reported in several hospitals, for example in Romania and Turkey.
The prototype was created within a month and was successfully tested in laboratory conditions. The team then implemented the final solution of the wireless sensor, including a system for data processing and visualization, the first two sensors were located in selected departments of the University Hospital in Ostrava in January last year.
"We have decided to extend the oxygen concentration monitoring to other rooms where is a potential risk of higher levels due to oxygen therapy and we want to ensure maximum safety," adds Marek Gajovský, head of the local medical technology department. His team regularly monitors the oxygen concentration level thanks to online visualization with set alarm values, if these limits are exceeded, the team is immediately notified. Currently, the University Hospital in Ostrava has five wireless sensors in place.
The authors of the sensor primarily develop and implement wireless sensors for geotechnical and environmental quantities. They have successfully developed sensors measuring the CO2 concentration, that are installed both at the secondary school in Frenštát pod Radhoštěm and also in the laboratories of their department. Their work also includes practical installations of wireless monitoring systems, which continuously monitor the temperature on burning mine dumps or the stability of slopes or the movement of rocks.
As part of their scientific activities, they solve R&D projects financed from the OPPIK or TAČR programs. They would like to establish closer cooperation with both industrial partners and research organizations in the field of development and implementation of wireless sensors using technologies such as IQRF, LoRa, Sigfox, NB-IoT and others.
Media