Higher savings, comfort and security with IoT solutions based on IQRF technology - online on Lupa.cz
19 December 2022
To use lights or turn them off, to turn up the heat or to freeze? Be smart with IoT solutions. There is no need to get rid of everything we are used to.
Read the original article here. (CZ)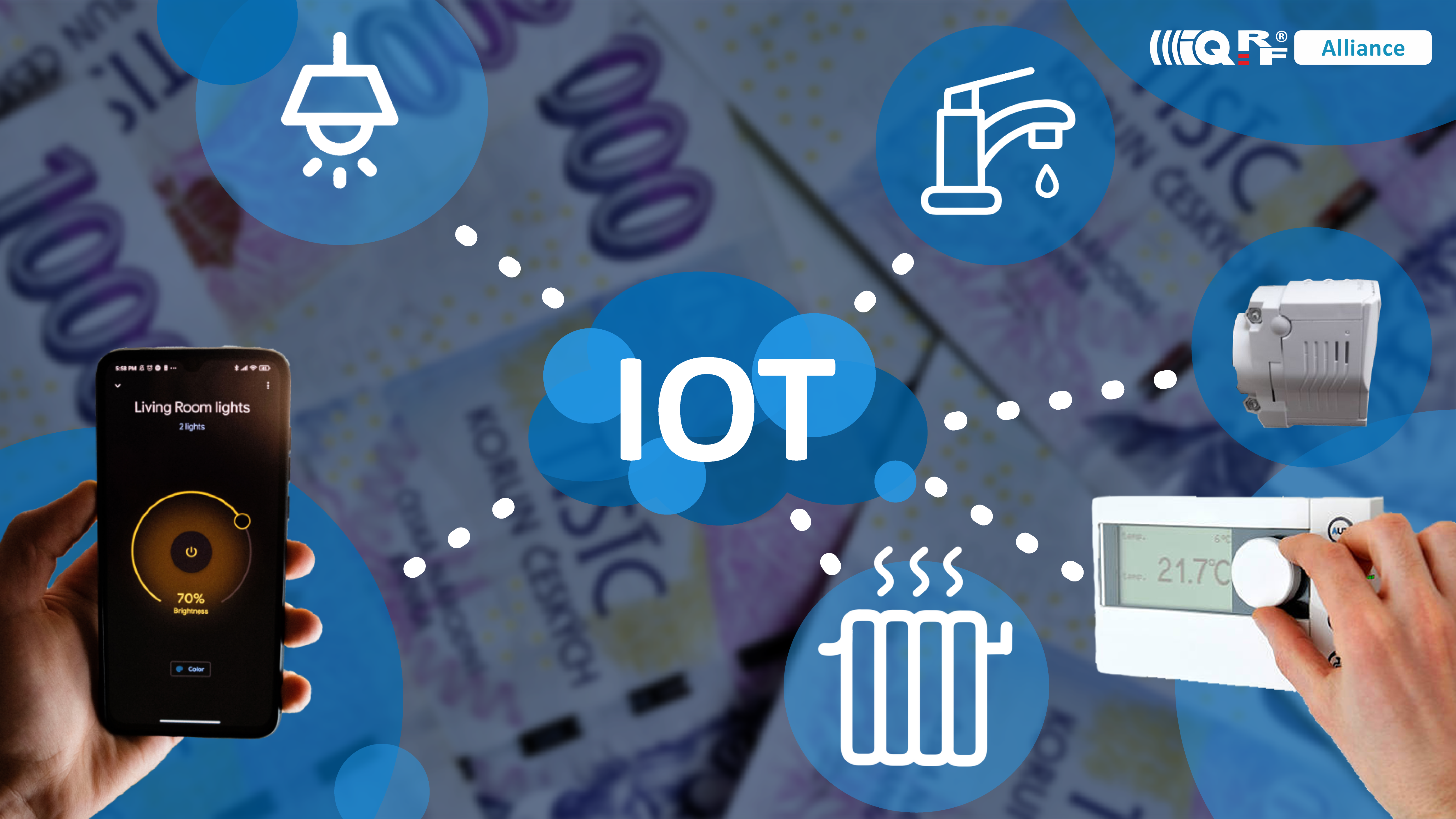 Many of the smart IoT solutions will improve quality of life, others are focused on energy savings and a lower carbon footprint, or on security. Members of the IQRF Alliance, a non-profit association of commercial and non-commercial entities engaged in innovative ideas, have been delivering notable proven solutions for many years.
Monitoring
This area is logically interwoven with quality of life, savings and safety. You can monitor air and water quality, as well as the occurrence of pests. You can monitor who comes into your building, restrict access to certain areas and generally get a clear overview of who is in the building.
If you stay in buildings with stale air, it will have an impact on your performance, well-being and health. For example, in the case of CO2 – carbon dioxide – its content in the air should not exceed 1500 PPM in the long term. In such cases, there is a risk of headache, reduced attention and performance, and with higher values during a longer stay, fainting. We probably don't need to explain at length where the carbon dioxide comes from. Among other things, we produce it ourselves as a waste product of respiration. Unlike carbon monoxide, it is not directly poisonous, but it still has its negative effects, especially at higher concentrations.
In today's time, when money is being saved on heating and ventilation is reduced, both the CO2 and humidity values mentioned above are rising in indoor spaces. Consequences in the form of mold and diseases do not take long to come.
Therefore, monitoring systems can be used that give you a clear idea of the current level of temperature, humidity, CO2 or even other gasses such as carbon monoxide or radon. Try IQAROS wireless temperature and humidity monitoring, which you only need to turn on and set the basic monitored limits. It will alert you if the limits are exceeded.
Monitoring of various compounds in the atmosphere is carried out in the IQRF Alliance, for example by MICRORISC, Protronix or Tesla Blatná. The company ADERA deals with pest monitoring. Other companies combine and display data from sensors from different manufacturers in their applications, such as ZAT, Logimic, MasterDC and other cloud specialists. The company EFG CZ deals with reliable camera systems, security and attendance, which offers its own attendance and access system Aktion.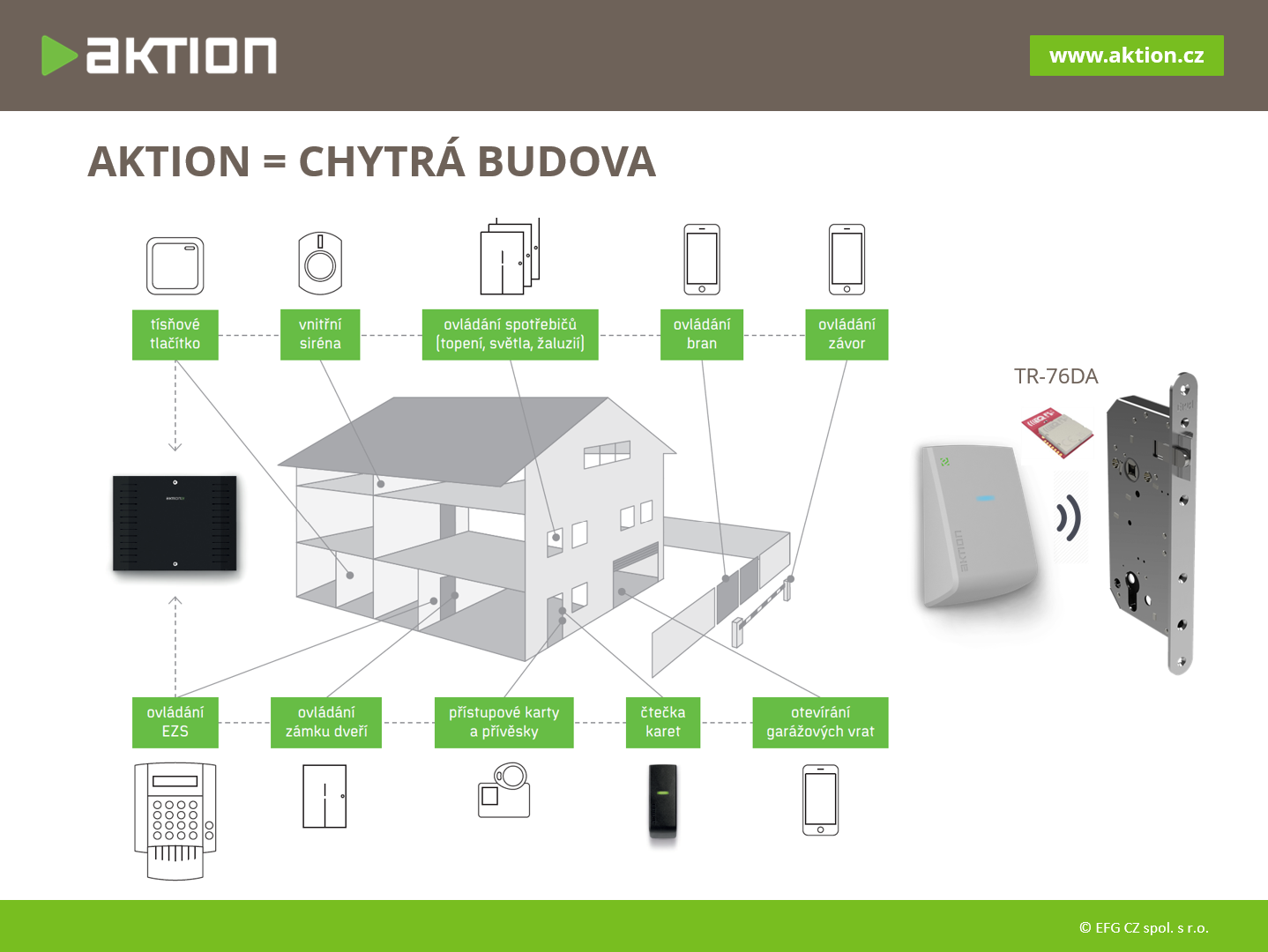 How to save?
When it comes to savings in energy and other resources, IQRF Alliance members have prepared solutions in the field of lighting, heating and sanitation.
Lighting
Some lighting system suppliers integrate IQRF wireless technology into the fixtures, allowing them to be both monitored and controlled remotely. The IQRF wireless network works in a mesh topology, thanks to which it is possible to communicate remotely even with luminaires that are really far from the central control unit, for example over several floors, in basements, at the other end of a large building.
It is not a problem to cover office, industrial, school buildings, sports and cultural halls, indoor parking lots, etc. with wirelessly controlled lighting. In addition to ordinary interior lighting, emergency lights or outdoor lamps on streets and parks also work with the wireless network.
The intensity and color of the lighting can be adapted to the current situation or to a regular schedule. It is possible to combine ambient light penetrating buildings through various skylights with lamps and thereby save electrical energy. Savings in the field of lighting are in the range of 50-80%, depending on the original condition and the degree of control.
DATmoLUX has been supplying advanced lighting control systems for a long time. They are pioneers of wireless technology, thanks to which it is possible to manage both public lighting infrastructure and complex systems of indoor spaces, for example factory halls.
The Brno-based company also applies remote-controlled lighting systems to orders for the ceremonial lighting of important monuments. After implementing their technology, it is easy to run color systems for festive purposes, as well as to optimize the consumption of electricity, achieving significant savings.
Energy-saving controllable lighting is also the subject of various grants that can be obtained, for example, by municipalities, often in connection with some other smart energy-saving solution.
Unique procognitive lighting is supplied by Spectrasol. The light spectrum and other properties of this patented technology are very close to sunlight compared to conventional lighting. Thanks to the support of the biological functions of the organism, people living in interiors equipped with Spectrasol lamps will get a more stimulating and healthy environment, and at the same time, the retinas in their eyes will continuously regenerate.
Spectrasol states: "The quality of light should be one of the cornerstones in creating an environment for work, study and other mental and physical activities carried out during the day indoors. The latest scientific studies show that enough quality light supports overall alertness, ability to concentrate, cognitive functions, emotional mood, overall health, and also positively affects productivity and academic results."
You can familiarize yourself with the products and solutions of all alliance members on the IQRF Alliance website or at events that the alliance organizes or participates in. Other companies that deal with outdoor lighting are also members of the IQRF alliance, such as Radek Pechman, or those that deal with emergency lighting, such as Liteplan.
Heating
We visited some implementations of Austyn International, where they introduced us to deployed solutions. In industrial halls, it was mainly about regulating the heat supply or targeted heating of work "bubbles" using remote-controlled infrared radiators. At the Kalinčiakova Primary School in Bratislava, they installed thermoregulating wireless heads, which are used to regulate the heating in the rooms. The heads are supplied in an anti-vandal design, which prevents unwanted readjustment of the radiator valve or theft of the inserted batteries. Thanks to the unique beaming technology, the life of the battery in the head during normal operation reaches at least 5 heating seasons. The heating is connected to the school schedule, in which exceptions can be made in case of sudden leave and changes can be made. Depending on the degree of regulation, the savings range from approximately 50-70%.
Similarly, the heating can be connected to the hotel's reservation system, so that the rented room will only start heating to a comfortable temperature in connection with the planned stay of the guest. The rest of the time, the room is heated only to an economic level. Thermostatic heads can also respond to open windows and thus do not heat up unnecessarily if the guest is ventilating. One such hotel is Hotel Patria in Slovakia.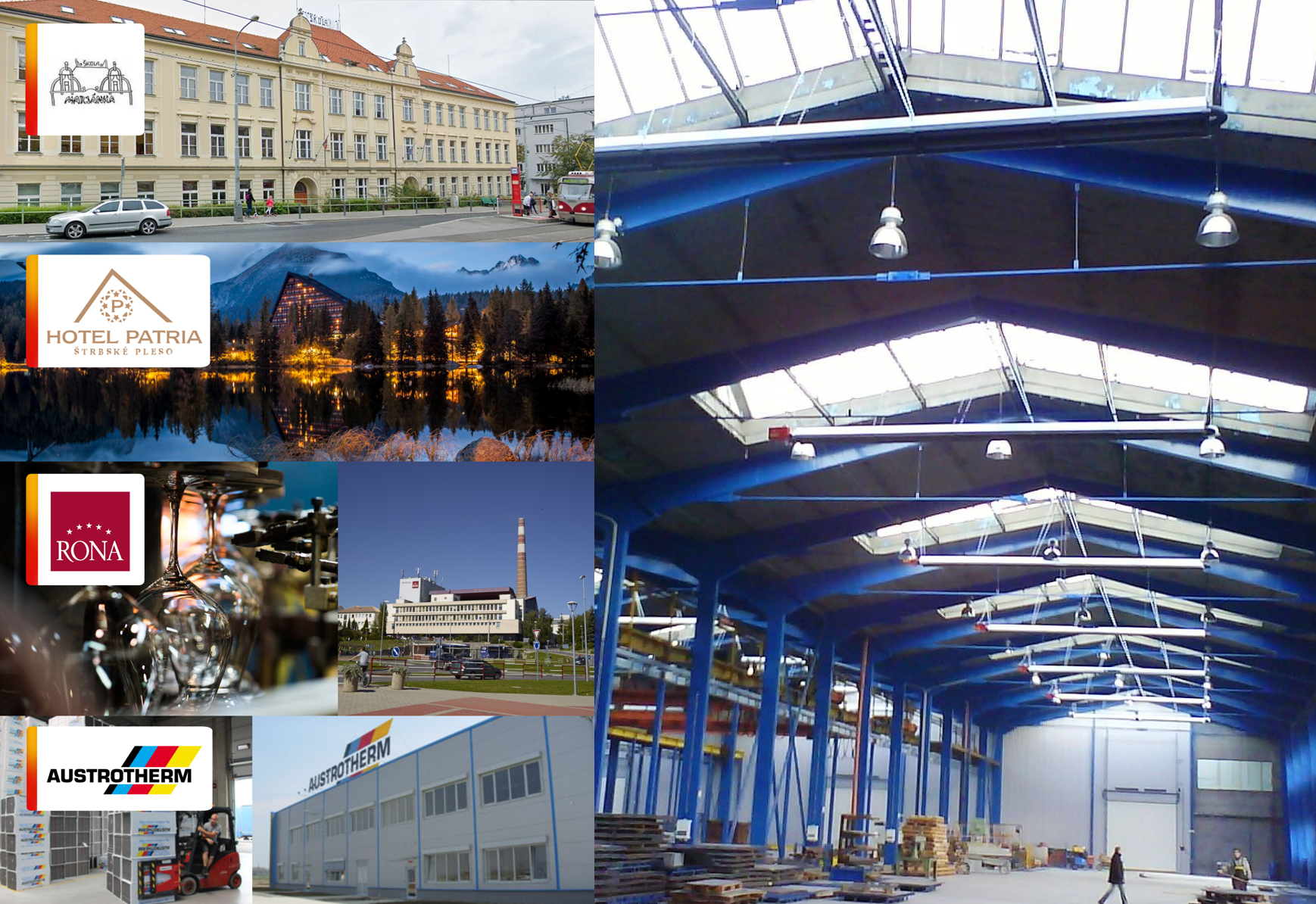 Sanitation
The smart solution from the SANELA company consists of remote monitoring and control of sanitary equipment. It combines the areas of savings, comfort and safety. Savings can be found in the optimization of the cleaning of social facilities based on information gained by monitoring usage. The comfort of visitors is enhanced by the timely replenishment of hygiene products and the cleanliness of the facilities.
Dangers related to accumulated bacteria in unflushed pipes can be eliminated by regular remote flushing. For example, Legionella bacteria can seriously harm people with reduced immunity, like patients in hospitals, but also elderly people in nursing homes. Inhaling an aerosol with these pathogens can cause serious illness. It is in everyone's interest to prevent such situations. SANELA registers these remote flushes in a central application that the customer, for example a hospital, has at their disposal at all times.