Black Friday with IQRF starts!
14 November 2023
Take advantage of our Black Friday discounts and get the high-tech products and development tools of IQRF technology with the new series of transceivers at significantly lower prices! The offer is valid until the end of November.


New "black" series of G-type IQRF transceivers with more memory and many other improved parameters (compare it with the previous D series) - DISCOUNT 30 %
IQRF technology development tools with new G-type IQRF transceivers - DISCOUNT 30 %
IQAROS sensor set for wireless temperature and humidity measurement - various types for industrial and office premises - in predefined sets with a significant discount
Buy at eshop.iqrf.org/black-friday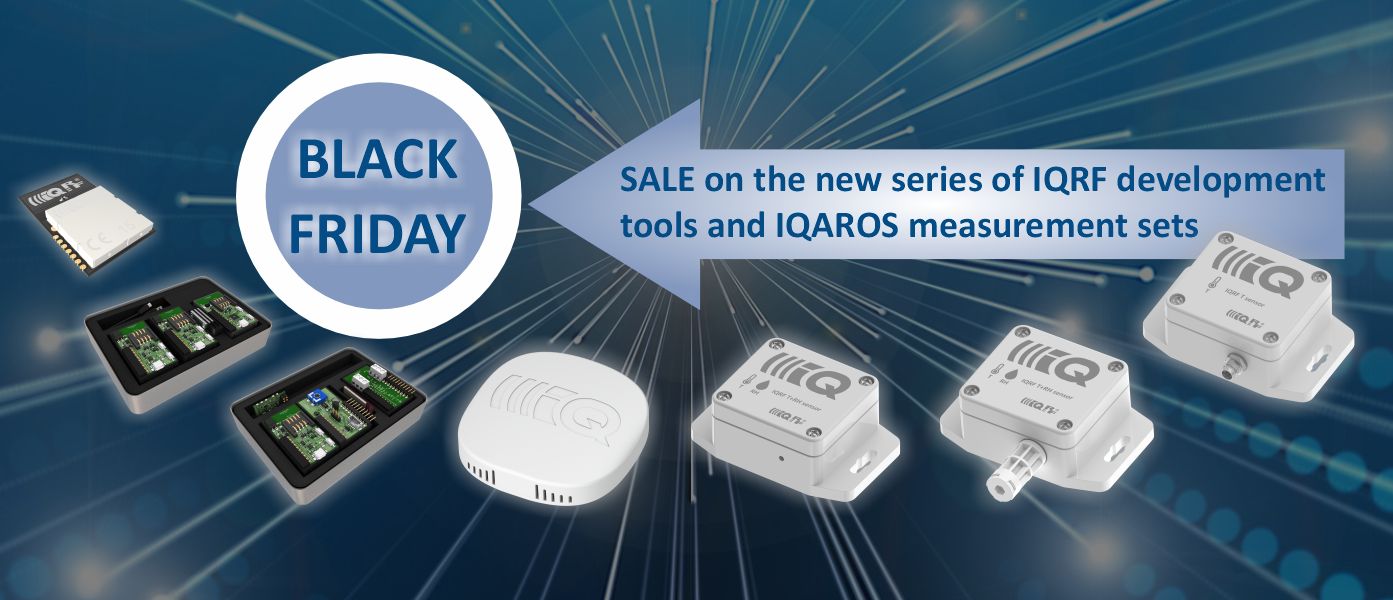 IQRF open standard
Internationally awarded, and protected by dozens of patents, the unique Czech IQRF wireless technology was introduced as a new open standard.
Dr. Vladimír Šulc presented the IQRF open standard at the Wireless Congress in Munich and at the Week of the Academy of Sciences of the Czech Republic in the first week of November.
Thanks to industrial reliability, ultimate security, and perfect coverage of problematic areas, including tunnels or underground, IQRF is an ideal and economically advantageous solution, especially for controlling light networks, large-scale heating systems, or industrial automation. The highly energy-efficient IQRF True Low Power® concept extends the lifetime of battery-powered sensors for decades, even beyond the lifetime of the batteries themselves. This makes IQRF a great choice for sensors and wherever maintenance costs need to be minimized. That is why today IQRF technology connects a million devices in the world.
Making the technology available as an open communication standard is the culmination of nearly twenty years of research and development. The possibility of using the standardized IQRF communication technology is newly opened to every manufacturer who needs modern and reliable technology for connecting their products to IoT.