DEVTECH M2M IoT Gateway 5103
RF based M2M segment controller for street lighting remote management & smart city platform
Company info:
Name: DEVTECH M2M Limited
Country: India


Info about product
Category: gws, dongles and routers
Status: Preliminary
Manufacturer Name: DEVTECH M2M LIMITED
Product Version: 1
Power Supply: 90V ~ 305V AC, 50/60Hz
Manuf. Location: Pune, India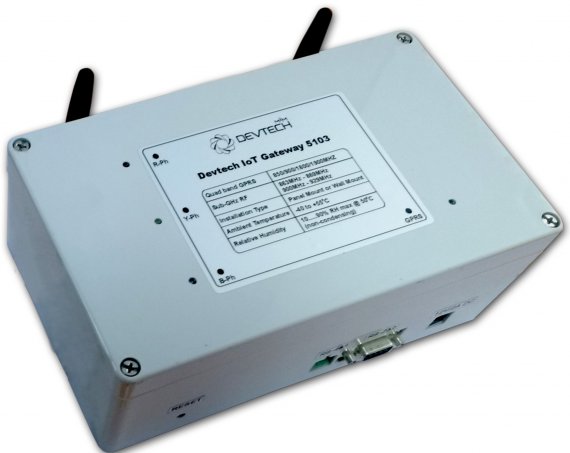 IoT Gateway 5103 is a high performance, IQRF mesh technology based M2M segment controller which serves as a data concentrator or a gateway for a group of RF enabled Lighting Control Gear - Devtech LCG 6000 to connect with cloud enabled iStreet.Network Software using WAN communication IP network such as 2G/3G cellular, GSM/GPRS, Ethernet or Wi-Fi for remote monitoring & controlling operations of streetlight assets from the off-site location. This lets you to save energy, improve operations and lower maintenance cost.
Salient Features :
Specially designed and optimized for IQRF Mesh network which provides long range and maximum connectivity.
Located on street light network which acts as a network manager to manage all the traffic information, monitor and control commands for each individual LCG fitted to HID or LED luminaire using IQMESH RF technology.
One IoT Gateway can support up to 239 LCG nodes in one street light network.
Automatic Street light control throughout the year on basis of precise sunrise and sunset time depending on the configured geographical location (Longitude & Latitude).
Locally stores all the status, metrology & failure informations, historical data such as energy consumption (kWh) & running hours of the each individual lamp/device.
Built-in Gateway Applications :
Astronomical clock with high precision RTC
Scheduling of time of day, day of week/month, date and sunrise/sunset relative timings
Alarming and flexible reporting
Data logging with historical data repositories
Failure detection and reporting
SMTP EMAIL support
Event and fault Logging
Network time synchronization with server