Interview #7: Adera and pests monitoring
27 April 2021
Source: Podcast about smart traps
Rodents can carry pathogens and are the main hosts for ticks. Most often, insects are harmful due to allergies, as the shells of dead insects are a major allergen. The representative of the Adera company talks about their activity in the field of disinfection, disinsection, and deratization using smart technologies.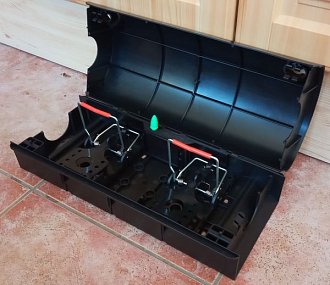 A nice day for all listeners of our channel. I would like to welcome Michal David from the Adera company.
Hello!
Michal, can you briefly tell the listeners what you do in the company?
Our company has been dealing with rodent control, disinsection, disinfection, protection against pigeons, and risky clearing for twenty years. In other words, our activity is aimed at protecting public health.
And why is it all done? Are rodents and other animals really associated with such a health risk?
That's right, basically most epidemics in the Middle Ages, perhaps even earlier, but this is not so documented, are associated with pests. For example, rodents carry pathogens, can transmit them in urine, faeces, more than 30 identified pathogens, and are the main hosts for ticks. For ticks, we know what they can transmit. This brings us to what insect pests can transmit. It is a possible biological transmission of pathogens, mechanical - they transmit some small viruses, bacteria on their legs. So this is a case of disinsection.
Most often, surprisingly, insects are harmful due to allergies, as the shells of dead insects are a major allergen. And, of course, an integral part of our activity is disinfection, which directly eliminates those pathogens such as viruses, bacteria, parasites, and of course, we try to prevent the spread of pathogens through the air and across contaminated surfaces.
The same goes for pigeons. We solve pigeons with the help of barriers, catches, and veterinary killing. In the case of risky clearance, we deal, as it follows from the essence of the matter, with those risky places, and these are especially places where, for example, drug addicts, homeless people are...
What objects need to be protected against pests from the point of view of legislation, but also health? Who is your most common customer?
From the point of view of legislation, this is not solved by the owner of the building, a legal entity. Of course, as everyone has this obligation, everyone pays different attention to it, and somewhere it is regulated by other regulations, so I think it is always regulated in the food industry, agriculture, the pharmaceutical industry and partly also in accommodation and catering facilities. But I would not underestimate communal hygiene, wherein in the case of pests, there is an obligation to intervene, for example also in the case of associations of homeowners.
Every owner of buildings, a legal entity, is obliged to provide DDD services, respectively not DDD services, but common DDD protection and special DDD protection. There is quite a difference.
Common DDD protection is part of routine cleaning, and basically, it involves monitoring and some preventive measures. Special DDD protection, these are the repressive measures, the elimination of those specific pests, pathogens.
We do both.
We met a few years ago at a meeting of partners of the City Center of the Future. I was fascinated in the fact that you are dealing with the issue of necessary and beneficial rodent control in a modern and smart way. Can you describe the function of your traps more? And how does IQRF fit into your solution?
This solves two problems. The first problem is the overuse of biocides in the implementation of DDD. This means already prohibited monitoring with biocides, popularly speaking, poisons. Surely you know it - the exterminator comes, deploys the baits, leaves. And he has it solved. This procedure is not possible in our legal framework. We must always intervene on the basis of the results of monitoring.
And that monitoring can take place either automatically, using IQRF traps, or IQRF monitors, or traps, permanently. Or it can be monitored by baits. This is a bait without the active substance and based on the results of this monitoring, biocides will be used. When monitoring with baits, the problem is the frequency of that monitoring. Because the moment a technician leaves after finding that there is no bait loss, pests can attack the place. And basically, no one knows what's going on until the next inspection, pests can breed. Thanks to permanent monitoring, we know this immediately, so we intervene much earlier. In extreme cases, even 3 months earlier than in the case of conventional monitoring.
In other words, the possibility of an immediate reaction, thanks to which the amount of biocides used is reduced, and yet there is no major infestation by pests. And the good thing is that biocides are not used as a precautionary measure.
So should I imagine those traps as some devices that are connected by wireless technology to some central application, and there the moment the rodent is caught, some information comes in?
Yes, that's right. Basically, we have two types of traps, monitors. Some of them are real folding traps, as we know, for example, from use in the cottage, they are just inside the boxes, so they don't contaminate the environment when folding and catching. And the basic protection of the environment is that the station is cleaned immediately due to the fact that an alarm is coming, it is possible to achieve this. Of course, this is not possible without connecting the stations to the Internet, the cloud, and our system. There are no such common problems compared to installing normal traps, which are, at best, dried up rodents, at worst with worms eating fresh corpses.
Where do the data from the traps go to?
The data from the traps go to our own system, which also has a user interface. This means that our clients can see the alarms in the client zone as they gradually come, or they can leave it to us, ie. we will take care of it completely from receiving the alarm and the repressive intervention associated with it.
And are the data from those traps available later for possible audits of those companies?
Completely, and even we have solved it, so that it is not just a single checkpoint, but, for example, crawling insects, flying insects, or specific pests, specific commodities must be monitored. And so we evaluate more those checkpoints. We can actually display those trends in a very similar way to Google Analytics. Including trends, details of the individual checkpoints, and a summary of the various interventions that are then needed. Because you rarely solve a pest problem without interacting with the customer.
And that customer has to keep some documentation on these things by law?
By law, the customer must perform common DDD protection. Which is a set of measures to control the occurrence of pests. And this set of measures needs to be documented in some way. In what way, the law does not specify. On the other hand, our method is ideal.
So you supply data from those catches, from that monitoring?
Yes.
Is there an evaluation of the effectiveness of your measures?
Again, this is a legal obligation. The evaluation of effectiveness includes graphs, trends, and setting some thresholds for intervention. If you are in stables, for example, the occurrence of one or two flies is definitely not a problem to be solved by some big intervention. If you are in pharmaceutical production, in a clean room, then the occurrence of one fly can already be critical. So it is necessary to work with it according to the type of customer, what our system allows. The parameters are set to suit the specific customer.
As it seems to me, there are a huge number of those customers. How do you do it?
We have strengthened our staff, and our software allows us to work much more efficiently.
Can you tell us about specific customers who use your smart solutions?
Well, we're definitely proud that Amazon, which sets technology trends, uses our solution, our services.
Michael, thanks for the interview and have a nice day.
Thanks a lot. And I wish listeners not to be afraid of anything.